EXTRA! EXTRA!

Two people, a piece of gum, and an epic love.


Ladies, grab a tissue box. Gentlemen, take notes. This sappy, yet satisfying, two minute Extra Gum ad has gone viral since its first airing on Oct. 7.
The advertisement was shared by a few of my friends on Facebook a few days back. They were sharing it with comments like, "Right in the feels!" and, "I demand a movie!"
So, out of curiosity, I clicked, watched, and to my surprise, wiped away a tear or two.
It began by playing the soft, love melody, "I Can't Help Falling in Love With You" by Haley Reinhart. Two high school students, Sarah and Juan, lock eyes from across the hallway, the girl drops her books, cutie-patootie-guy comes over, and what does she hand him? A piece of gum.
The symbolism of this gum stays with us for the rest of the story. From their first kiss, picnics, prom night, fights, and lone-distance there was always one thing that remained consistent with Sarah and Juan, a piece of Extra gum. Juan saves these gum wrappers, drawing doodles of their most cherished moments on each individual one, and saves them for a special moment. A freaking wedding proposal.
This romantic fellow, sets up a gallery of gum wrapper doodles, and pops the question. He sets the ultimate bar for all proposals to follow.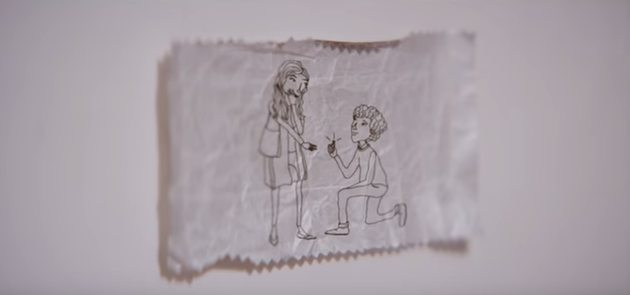 By using non-famous actresses, it helps the viewer feel comparable to the ad, it's more relatable. It takes us through the story of these two love birds, letting join them as they fall in love.
Extra was trying something new and different, and the succeeded. Everyone is obsessing over this gum-dorable couple. Sarah and Juan are a one of a kind. There has never been an ad that I didn't anticipate the skip button to pop up at the bottom of my YouTube video.
Extra is targeting those in their mid-20s, and those in relationships. It is all the hype right now to have an extravagant proposal and post it on the Internet. I wouldn't say that this is targeting a specific gender, but it is definitely directed to those of us out there who are suckers for a good love story.
As much as I would like to say that this as has no flaws, it does. It's cheesy, it's sappy, and it's stereotypical. For example, love at first sight. This is such a romantic comedy move. The couple locks eyes, fall in love, struggle with distance, and make it back together in the end. Stereotypical and predictable.
While some people, like my Media and Society instructor, may think that this ad is "lame." In a way, I can agree, but I can't help but fall in love with Juan along with Sarah.
Society loves love. A while back there was a commercial from Post It, where a man uses sticky notes to propose to his significant other. A good love story, always wins. It may be excessively cheesy, but it's working for me.
This ad is memorable. It tugs on those heart strings, and catches your attention. It connects with all ages. It may be targeting the younger demographic, but it can catch the attention of any age range.

Social media has been raving over "The Story of Sarah and Juan." Huffington Post said, "There's just something about this gum commercial that is really sticking." They were as surprised as I am that in just two minutes, we can capture such a rush of emotions.

Now, just because Extra caught my attention with this advertisement, I don't think I'll be only buying Extra gum from now on. Mint is mint no matter what brand, to me at least. On the other hand, I am curious to what other advertising Extra has up their sleeve.

Perhaps it is the Haley Reinhart tune playing in the background, the chemistry of the characters, the witnessing of a real love, or a combination of them all. Whatever it is, "The Story of Sarah and Juan" shows us that love has the strength to move many. Love always wins.




Links:
http://www.huffingtonpost.com/entry/watch-the-extra-gum-ad-that-is-bringing-everyone-to-tears_561c1adfe4b028dd7ea4c49a
https://www.youtube.com/watch?v=XLpDiIVX0Wo